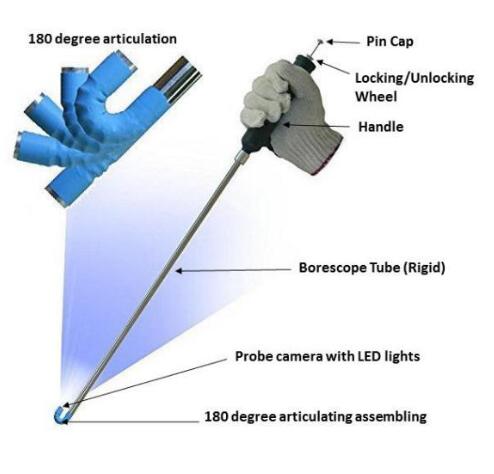 Automotive, boat, truck, motorcycle engine Borescope Tube and pipe inspection USB Digital Semi-Rigid Articulating Borescope
Cable cam : Semi-Rigid
Moldable
Length: 80cm
180° articulating
Cam Diameter 8.5mm
LED lights 6pcs
Introduction of Digital Articulating Borescopes:
USB Digital Articulating Borescope Inspection Camera
Videoscopes are designed for visual inspection jobs where the area to be inspected
is inaccessible by other means. The borescope uses a miniature video camera at
the end of the soft tube. The end of the insertion tube includes 6 high light white
LED which makes it possible to get a very clear view and take photos or capture
videos deep within equipment, engines and other dark spaces. There are many applications forborescope inspection cameras. Here are some of them: • Aviation airplane engine maintenance
• Gas cylinder/tank inspection
• Tube and pipe inspection
• Air conditioner and vacuum systems inspection
• Safer and locker inspection
• Instrument, mechanical and equipment repairs
• Automotive, boat, truck, motorcycle engine inspection
Specifications
1. Sensor: high-quality CMOS sensor
2. Resolution: 640X480
3. Interface: USB2.0.
4. Frame rate: 30 frames/sec (CIF and VGA).
5. Focal distance: 40mm - 400mm
6. Optical lens view angle: 60°
7. Photo format: JPG
8. Video format: AVI
9. High brightness LED: 6 pcs, white color
10. Brightness at 20cm distance: ~ 200 lumens, adjustable
11. Diameter of insertion: 8.5mm
12. Length of insertion: from 350mm to 800mm depending on models
13 Articulation bendable angle: one way 0° to 180° adjustable
14. Angle locker: can be locked/unlocked at any angle
15. Articulation bendable radius: 30mm
16. Water Proof: IP65
16. Working temperature: 0° to 60° 17. Storage temperature: 0° to 60°
18. Works with systems: Windows XP, 7, 8, 10 and MAC, plug & play, Android; (iOS like iPad/iPhone through WiFi Box)
19. Connecting to Android:
Yes through OTG cable (APP:
CameraFi, AbleScope)
How to use :
1. How to bend the articulation see right photo:
The release button and the locker are worked together. Just push down the release
button by the thumb to bend the articulation to a proper angle from 0° to the
180° back and forth.
2. How to lock the articulation angle: There is a locker at the down place of the
release button you can see the knurling on the round edge. Turn the locker
anticlockwise to open the function. Push down the locker and turn the locker
clockwise to close the function.
3. Portrait of the image: The direction of the USB cable indicates the portrait
position of the image
4. At the end of the borescope there are 6 high light white LED around the lens to
provide illumination. To adjust the light user can turn the wheel on the dimmer
on USB cable. The LED lights will be hot after a while. Please do not touch the
camera end by fingers.
Optional Accessories: ( not include in )
Wi-Fi Box:When the endoscope is connected to the WiFi box, the WiFi box converts the image captured by the endoscope into a WiFi signal.
Download the app for free, receive and display images wirelessly from iPhone, iPad and Android devices, or take photos and videos