Injector clean & maintenance &test machine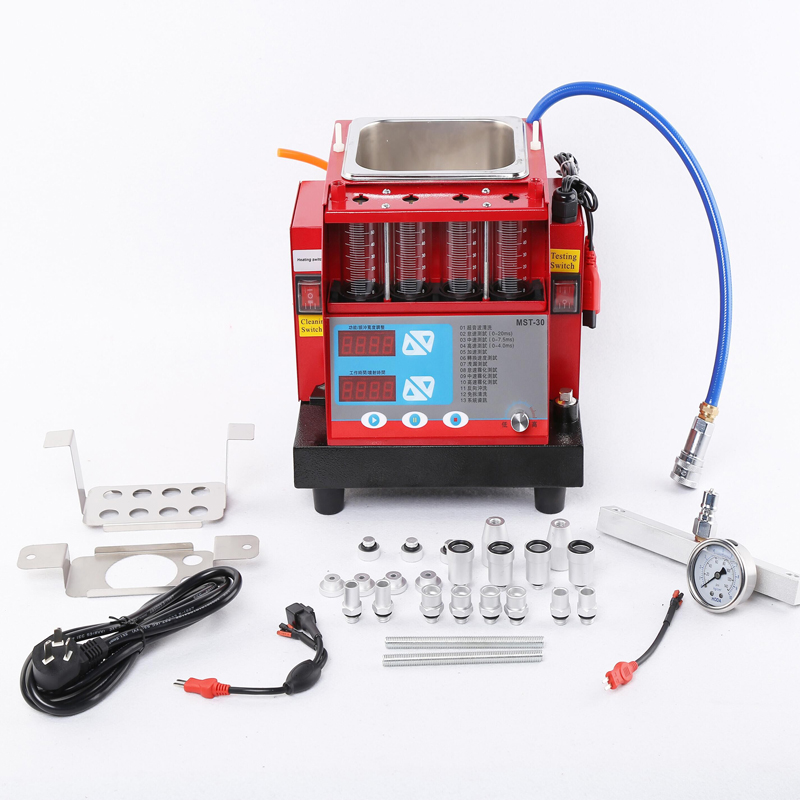 4 Cylinder Auto Ultrasonic cleaning Machine Fuel Injector tester and Cleaner for Motorcycle and Gasoline Car110V/220V
MST-30-M Mirco Fuel Injector Cleaner & Tester
FUNCTIONS:
1.Ultrasonic cleaning , dismantle the carbide of the injector;
2.injector test. stimulate engine running condition, test injector in different speed range,Check and test injector's injection situation: atomized /spraying angle/spraying mount/spraying uniformity;
3.leakage and block test;
4.Uniquely designed various compound liquid for all kinds of side-inlet injectors;
5.With reverse flush function, to clean inside out, to improve clean efficiency;
FEATURES:
1. LED display; 4 Cylinders
2. Ultrasonic cleaning trough built-in;
3. Tool trolley make it more conveniently to operate;
4.Equip with high quality SIEMENS pump, make it endurable;
5.It can test and clean at the same time.

SPECIFICATIONS:
Turning speed range: 0~7500r/min
Timing pulse length: 0~9900times/step length 100
Pulse length: 0-20ms step length 0.1ms
Timing: 0~10min
System pressure: 0~0.6Mpa
Ultrasonic cleaning power: 70W
Power supply: AC110V/220V±10% 50/60Hz
Working temperature: 10°C~40°C
Stimulant signals: 0±5V
Output scope of the pulsed signals: +5V,+12V
Main body meas: 500x500x300mm,10kgs
Dimension: 590x505x790mm, 10kgs