Injector clean & maintenance &test machine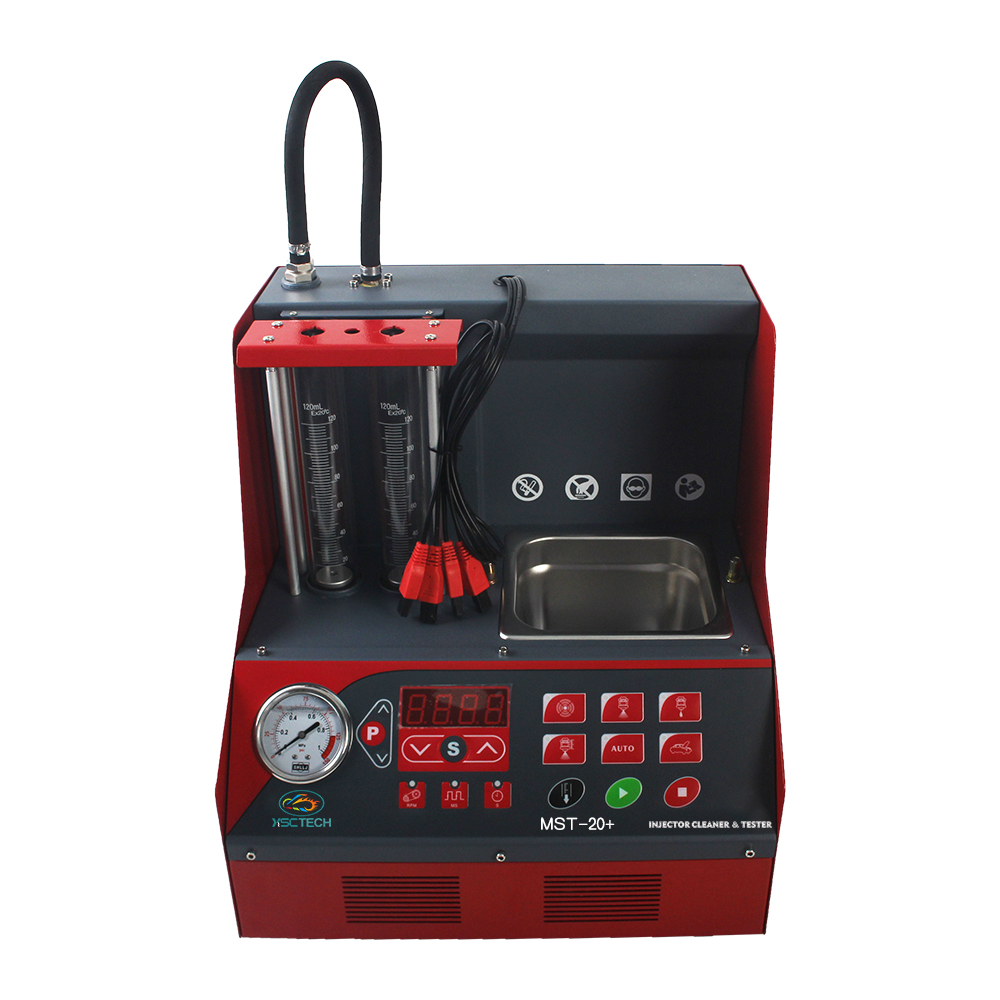 2 CYLINDERS FUEL INJECTOR CLEANER FOR MOTORCYCLES
Introduction
Thank you for purchasing the Injector Cleaner & Tester manufactured by us. Developed with the technology of ultrasonic cleaning and fuel pressure control, this equipment is an advanced electromechanical product, which can clean and test injectors by simulating engine working conditions. It can also perform cleaning on the injectors and fuel supply system on vehicle.
Functions
l Ultrasonic cleaning: To perform simultaneous cleaning on several injectors and to remove the carbon deposits on the injector completely.
l Uniformity/Sprayability test: To test the uniformity of injecting amount of each injector, and to monitor the spraying status of each injector with the help of backlight. This test is also for reverse flush.
l Leakage test: To test the sealing and dribbling conditions of injectors under system pressure.
l Injecting volume test: To check the injecting amount of the injector in 15 seconds of constant injection.
l Auto. test: To test injectors by simulating different working conditions.
l Combustion chamber cleaning (Optional): The unit is equipped with adapters and couplers that facilitate cleaning on the injectors on vehicle.
Features
l Adopting the powerful ultrasonic cleaning technology, The equipment offers complete cleaning to the injectors.
l Fuel pressure control through microcomputer offers stable pressure control and large adjustable range.
l With the help of microcomputer control and digital display, The equipment makes possible automatic cleaning, testing injectors and real-time monitoring of the dynamic values.
l Automatic fuel draining through preset programs for some test items. Test liquid/detergent can also be drained by pushing a button on the control panel after the test.
l Adopting humanization design can make the system pressure fast restored to the default values.
Specifications
Working conditions:
l Temperature: -10~+40℃;
l Relative humidity: <85%;
l Intensity of outer magnetic field:
<400A/m;
l No naked flame within 2m.
Specifications:
lMain unit power supply:
AC220V±10%, 50/60Hz;
AC110V±10%, 50/60Hz.
l Main unit power: 230W
l Simulated RPM range: 10~9990rpm; step: 10rpm;
l Time range: 1~9999s;
l Pulse width: 0.5~25ms; step 0.1 ms;
l Fuel tank capacity: 1600ml
l Dimensions: 450mm×390mm×480mm
l Weight: 18kg