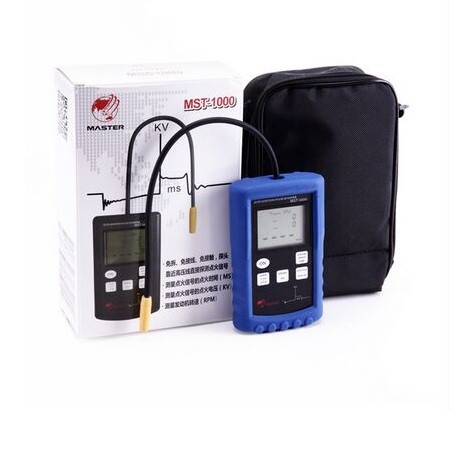 MST-1000 Auto Spark Plug Tester
MST-1000 Automotive Igniti on Signal Tester
Capacitive pick-up
Power ON/OFF/RESET button
Secondary Function/Capture button
Ignition system button
Main Function/Calibrate button
LCD display
Engine Cycles button
Protective rubber holster
Flexible probe
MST-1000 Automotive Ignition Pulse Scanner Function:
1.Minimum and Maximum functions (For COP and SPW modes):
*The MST-1000 maintains a continuous record of the minimum and maximum readings of the function currently selected.
*To display the Minimum and Maximum readings of the main display, if not already selected press' Secondary Function/Capture' Button momentarily.
*To reset the Minimum and Maximum readings, press the 'Power ON/OFF/Reset' button momentarily.
*These values are also rest when turning to "0"
2. Spark KVOLT Calibration function (For Cop mode only)
*The MST1000 requires the user to calibrate the instruments in order to measure spark KVOLT in coil on plug and coil near plug ignition systems.
*This calibration uses the measurement values obtained during the procedure to find the optimal measuring parameters or a particular type of ignition module, and compensates for differences in waveform and signal strength.
*Once the MST-1000 has been calibrated on one of the ignition modules of the engine being diagnosed, all the subsequent measurement of spark KVOLT will be relative to the calibration value.
​